Pretty ~ Grace~ Christina ~ Pamela ~ Margarita ~ Utamaro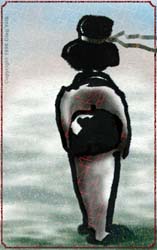 It has so happened that I favor a certain appearance in my models. As such choosy attitude is not universally espoused, I tend to associate with like-minded bigots.
Among the people I like are such disreputables as Kitagawa Utamaro and Torii Kiyonaga. Of course, since professional acquaintances of my friends must be treated politely, I am likewise cordial with Chobunsai Eishi and Suzuki Harinobu.
The bunch I just mentioned is known for depicting mostly pretty women (with token numbers of flower and celebrity pictures added for variety.) Some, like Uta-san, find excuses for the depictions.


Most ukiyo-e practitioners do not even bother with plausible explanations.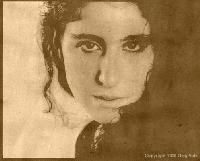 Personally, I prefer to depict what is pleasing to the eye.

On rare occasions, I provide something for the mind's eye -- though the effect may well get lost in translation from culture to culture.
Hi-res


I just claim that depicting my friends is a higher calling, worthy of a bozo true artist like me.


Here, for example, is my comrade in lunacy, the Sysop (yes, that's what Sysops look like in the wild.)
Naturally, it helps if the friend in question is cute.
| | | |
| --- | --- | --- |
| The rare moments spent with such friends are precious. | Supposedely, human warmth alone makes the frigidity of Minnesota bearable. Sometimes, however, dressing warmly helps. | Lace, if less practical during the winter, gets more attention than more pedestrian outfits. |
[NEW Old Junk, Ben & Francesca, Kelly & Mustachio Pete]

[
FAQ&A
]
Asian Faces | Travels | Journals | Other critters | Alpha Cats | Nature
---